April 28, 2020 by
Beth Sitzler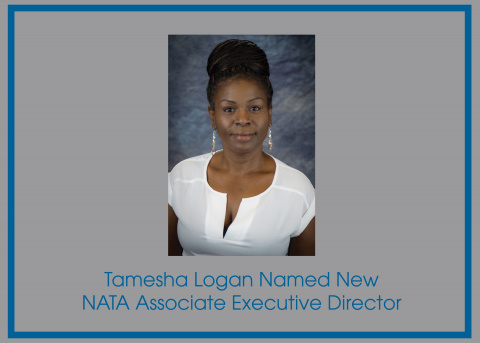 NATA is happy to announce that Tamesha Logan has been named the association's new associate executive director (AED). Logan has served as director of the NATA Marketing and Public Relations Department since 2014.
As NATA's associate executive director, Logan will continue to advocate for and promote the athletic training profession. She will lead and oversee strategic initiatives as well as several departments, including Membership and Business Development, Marketing and Public Relations and Knowledge Initiatives.
"The AED position is critical to our operation, especially as we navigate through the potential impact and opportunity as a result of COVID-19. Tamesha's experience and success over the years makes for a relatively seamless and expedient transition into this new role," said NATA Executive Director David Saddler. "Tamesha brought a wealth of expertise and a high level of energy to us six years ago. Her leadership can be seen in many strategic initiatives executed over the years. She is a strong advocate for the profession with the media and a host of influential groups. She is an integral contributor to our director and manager groups, and her staff leadership is evident in the great production and effectiveness of the MARCOM team."
Since joining NATA as the marketing and PR director – which oversees internal marketing, communications, external marketing and public relation – Logan has developed and overseen national advocacy strategies that have increased awareness and understanding of the athletic training profession globally. An example of this is At Your Own Risk, a public awareness initiative, which garnered support from athletic philanthropists such as the late Kobe Bryant and Ken Griffey Jr. as well as "Shark Tank" and Dallas Mavericks owner Mark Cuban.
Logan's dedication to AT advocacy can also be seen in her 2019 external efforts to educate the public about the importance of athletic trainers having unchallengeable autonomous authority to care. These efforts were chronicled on ESPN's "Outside the Lines," and covered by Forbes, USA Today and HuffPost, among others. Alone, this initiative garnered 300 million media impressions.
Because of Logan's strategy of nurturing key relationships, developing innovative initiatives and empowering ownership among team members, NATA earned more than 2 billion media impressions in 2019, a record for the association.
"I'm very proud of what I – along with my team – have accomplished over the years at NATA," Logan said. "While we, along with every department at NATA, have experienced monumental successes, there is much more work to do. Athletic trainers give tirelessly and passionately to their patients every day. At NATA, we have the opportunity to be for athletic trainers what they are for patients all over the world. To advocate, care for and advance the profession they love and have committed their lives to championing. I am excited and challenged to embrace this new chapter with humility and an overwhelming sense of responsibility to help NATA continue to thrive."
Logan has more than 15 years of experience protecting and increasing brand equity and market share for numerous industries and organizations. She began her marketing career in the Houston area, where she held positions including sales advertising and promotions coordinator with Helen Gordan Publications, which was the largest publisher of shopper publications in Texas; division marketing associate with Home123 Mortgage, the prime lending division of New Century Financial Corp.; and marketing project manager with St. Luke Episcopal Health System, which was named one of America's best hospitals by U.S. News & World Report.  
In 2007, Logan was named the associate vice president of marketing for the YMCA of Metropolitan Dallas, one of the largest Y associations in the U.S. In this role, she developed and oversaw the organization's integrated communication and marketing strategy to increase cause awareness and sales. Among other accolades, her efforts led to a 20 percent enrollment increase in the YMCA's afterschool program as well as a digital strategy for membership that increased campaign response by 30 percent and online lead generation by more than 100 percent.
Logan will continue to act as the marketing and PR director, in the interim, as well as associate executive director. Learn more about Logan, her nonprofit experience and her goals as associate executive director in the December NATA News.