June 4, 2019 by
Beth Sitzler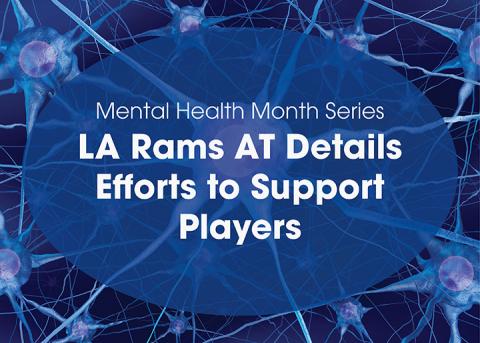 In honor of Mental Health Month, NATA is conducting a mental health blog series to examine different facets of this topic and how they impact athletic trainers and their patients. In this post, the last in the series, Los Angeles Rams Vice President of Sports Medicine and Performance Reggie Scott, MS, ATC, PES, discusses the importance of creating an environment of positivity and support.
The NFL and NFL Players' Association announced May 20 the creation of two new joint initiatives, both of which aim to improve the overall health of players: the Comprehensive Mental Health and Wellness Committee and the Joint Pain Management Committee.
While the Joint Pain Management Committee will work to create uniformed practices and policies related to pain management and the use of prescription medications, the Comprehensive Mental Health and Wellness Committee will educate players, coaches, club personnel and players' families about mental health. In addition, all NFL clubs are now required to hire a behavioral health team clinician, who will be made available to players in their facility, provide education to staff and create mental health-related emergency action plans (EAPs).
"Just like we have EAPs for injuries on the field, it's the same concept here. We'll have EAPs on how to handle everything from a mental health crisis to common concerns, like depression and anxiety," said Los Angeles Rams Vice President of Sports Medicine and Performance Reggie Scott, MS, ATC, PES. "I think this initiative will allow us to standardize our mental health care for our athletes. There couldn't have been a better time to initiate this."
For years, Scott and his athletic training staff have worked to create an environment of support and positivity in the LA Rams athletic training facility, one that welcomes players as they recover from injury.
"When the guys are hurt or injured, they're in a very vulnerable spot," he said. "This is their livelihood, and the last thing they need, when they come into the athletic training facility, is an environment that is not positive or upbeat. They don't need their environment adding to those negative feelings when they're already not in a good place.
"I have a great staff and I sat down with them and said, 'OK, we're going to have a smile on our face; we're going to sit down with them and have a good time with the guys and create a positive space.' We don't want the guys to not want to come in here."
When explaining his concept to his team, Scott compared it to a barbershop.
"If you go to a barbershop, barbers make money on how many haircuts they do that day," he said. "So, if you go to a barbershop, you know it's always busy. It's very lively. Guys are talking. There's a good vibe. But, the barber is cutting hair. You never see a barber stop cutting hair. They're contently cutting hair.
"I told [my team], 'Guys, I want to have an upbeat atmosphere; I want to make sure these guys are coming in and really feel good about coming in, but also, we're cutting hair – we're working, we're getting these guys better.' I don't want either one of those to contradict each other. If we're doing too much good time, we're not getting guys better; but, I also don't want to be a morgue either where we're just sitting here and just working on guys all day."
Creating such an environment, Scott said, starts with the people.
"I have people who have this same philosophy," he said. "They have a positive outlook on life and they really care about the athletes. The guys feel it. They love coming in and getting better."
This barbershop concept has allowed the athletic training staff and players to naturally form close relationships and build trust. In return, players are more willing to open up about their struggles, including those related to their mental health, which are often stigmatized and many are reluctant to discuss.
"[Because of] the relationships we develop with these guys in this positive atmosphere, there is so much more vulnerability and communication," Scott said. "They communicate with us about different issues that we can, then, outsource and get them help. This environment has created a place where we can address their health better because they feel more comfortable opening up to us."
While it is now mandatory for all NFL clubs to have an onsite behavioral health team clinician, the LA Rams created such a position last year.
"This really gave us the ability to have resources so we can pass these athletes on to the appropriate people so they can get care," said Scott, adding that the behavior health team clinician has conducted training sessions with his team to empower them to act when they become aware of someone in need. "We're in the trenches every day; they're not. [I asked them to] give some tools and some queues and train us a little bit so we can, at least, be able to assess it and figure out how to outsource it to the right person."
Scott and his team received confirmation that their philosophy and efforts were noticed and appreciated by the players this past December.
During a midseason game against the Seattle Seahawks, wide receiver Cooper Kupp sustained a tear to his ACL that had to be repaired through surgery.
"It was a debilitating injury," Scott said. "It was a tough time for him, but we worked with him and he was working his butt off to get better as the team was getting ready for the Super Bowl."
Returning to the athletic training facility after an away game against the Arizona Cardinals, Scott was welcomed by a large, striped barber's pole sitting outside his office.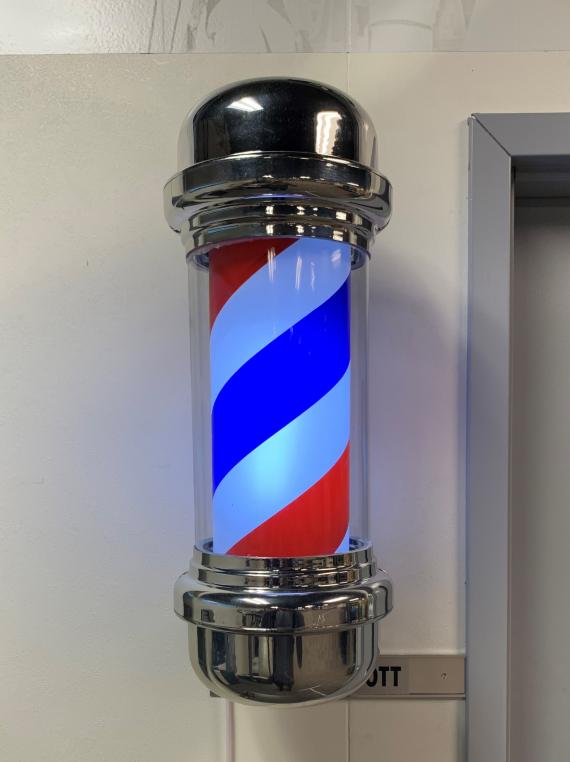 "It was the coolest thing," Scott said.
The barber's pole was a gift from Kupp to the athletic training staff, and was the perfect embodiment of the environment they worked so hard to create.
"Here is this player who is going through a tough time rehabilitating and [what we were doing] really resonated with him," said Scott, adding that every day, when he gets to the athletic training facility, he turns the pole on to let the players know the "barbershop" is open.
No matter the setting or patient population, Scott encourages all athletic trainers to learn about the signs and symptoms displayed when someone is going through a mental health struggle as well as what to do and who to contact to get them help. 
"I've learned quickly here that [mental health struggles] can affect anyone and there is a correlation between mental health and performance," Scott said. "It can be just as debilitating as a sprained ankle.
"Let's not sell ourselves short on this area. We need to know about this area; we need to understand it. I don't think we should shy away from it. I think athletic trainers are always going to evolve in our scope, and this is an area we need to have some education in. The mental health side of an athlete is just as important to me as the physical side."