May 9, 2019 by
Beth Sitzler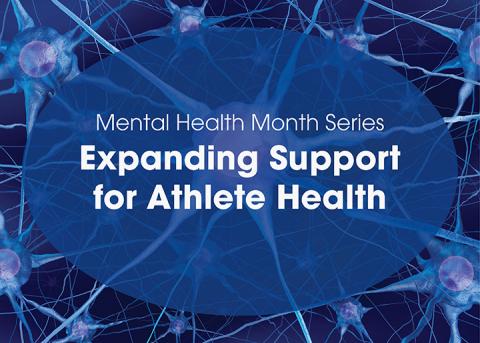 By Kim Diggs
In honor of Mental Health Month, NATA is conducting a mental health blog series throughout May to examine different facets of this topic and how they impact athletic trainers and their patients. This post focuses on the impact of Sidelined USA, an organization supporting medically disqualified athletes.
One of the more difficult parts of an AT's job is watching an athlete with so much athletic potential lose it all to an injury or health condition. Ultimately, the person who endures the most mental stress and pain because of medical disqualification is the athlete. In the May NATA News, Christine and Cade Pinalto, the mother-and-son duo who founded Sidelined USA, discussed the necessity of support, community and new opportunities for athletes who are coping with this new reality.
One of the many athletes who have utilized the services of Sidelined USA is Jeremy Larkin, a Northwestern University junior and former running back for the Northwestern Wildcats.
"I felt as if a part of me died, which is, essentially, true because I had fell in love with the game of football at a young age and played ever since I was 5 years old," Larkin said.
Larkin was medically disqualified his sophomore year at NU after being diagnosed with cervical stenosis.
"After multiple doctor visits with numerous specialists, our team doctors and my family came to the decision that playing football was no longer an option because the quality of my life was at great risk," Larkin said.
This was a blow to the team, especially the sports medicine staff and Kevin Kikugawa, MS, ATC, head football athletic trainer for NU. He believed Larkin had professional potential.
"Many ATs have had to watch their athletes' careers come to an end due to an injury or illness," Kikugawa said. "It is a very real part of the job. We spend so much time and effort building strong relationships with these men and women, and, unfortunately, we see some of their careers cut short. It's not easy for the athlete, and has an indirect effect on us as their caregivers." 
What Sidelined USA has found eases the mental strain and grief is finding a community of athletes who have dealt with the same thing while guiding them back into the sport they love in a new capacity.
This is what Kikugawa wished for Larkin.
In search of a way to broaden the support he was able to provide, Kikugawa and his staff found Sidelined USA through Tory Lindley, MA, ATC, NATA president and director of athletic training services at NU.
"It's quite simply an immediate referral for us after an athlete is medically disqualified now," Kikugawa said of his experience with Sidelined USA. "[The athlete] may or may not be open to it right away, but at least they know that we are thinking of their health, even after their contribution to sport is over.  They learn that specialized support is ready for them when they need it."
Because of Sidelined USA, Larkin has found strength in hearing the stories of these other men and women who've been through what he's been through.
"I was able to connect with other athletes with similar stories and have conversations about why we loved our sport," Larkin said. "Being able to connect with someone else who has struggled really helps make this transition smoother for both parties, I would say."
Kikugawa quickly noticed a new path forming for Larkin.
"Utilizing the services of Sidelined USA, he has been able to properly continue the grieving process, sharing his story with others in the support groups," Kikugawa said. "In doing so, he realized he has been able to help mentor others, which not only helps to heal their wounds, but his own, as well. Now, he is on the path of becoming a bigger part of [Sidelined USA's] plans in hoping to nationally mentor sidelined athletes and become an ambassador on the Northwestern University campus."
The organization has had a great impact on Larkin's view of himself, but it has also aided Kikugawa.
"I believe ATs have been waiting for an organization like this for a long time," he said. "Not only do they provide services for the sidelined athlete, but there are many resources we can access as health care professionals that can teach us how to help these individuals, as well. This system will grow quickly and organically – athletes helping athletes, while we athletic trainers continue to lend our steadfast support."
After completing the Sidelined USA program, Larkin said he feels empowered to still stake his claim in the sport that he loves.
"I see my future, now, working as a football coach to help guide, influence and have a positive impact on young men's lives – just like mine has been impacted by the coaches I've had over the years," he said.
For more information, visit Sidelined USA's website.