May 1, 2019 by
Beth Sitzler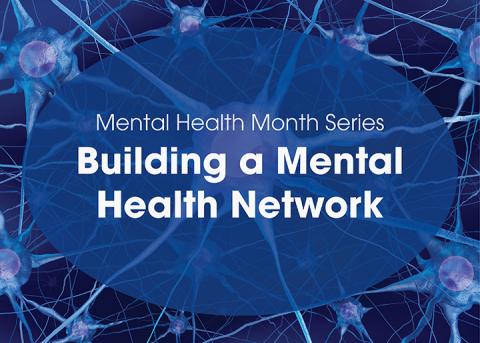 In honor of Mental Health Month, NATA is conducting a mental health blog series throughout May to examine different facets of this topic and how they impact athletic trainers and their patients. Creating a mental health network will be discussed in this first post.
In the May NATA News, Dr. Jim Taylor, a performance psychologist in San Francisco, and Erin Haugen, PhD, LP, CMPC, a clinical and sport psychologist in Grand Forks, North Dakota, discuss the psychology of injury, the importance of caring for the body and mind during recovery and the athletic trainer's role.
"Athletic trainers are such an integral part of the team and the recovery process," Haugen said. "Athletic trainers, their role isn't to treat the mental health difficulty, but being able to identify it and create a nice handoff to a licensed mental health provider who can really work on treating the mental health concerns is certainly something within the athletic trainer's role."
When it comes to athlete mental health, Haugen said athletic trainers play three major roles: awareness, knowing the mental health symptoms that can be present during the recovery process and educating athletes and other support staff, such as coaches, about these possible symptoms and red flags; identification, knowing how to screen for these red flags, recognizing when an athlete isn't safe and doing their part to keep the athlete safe; and referral, knowing how to talk to an athlete about what they're seeing, their concerns and connecting him/her to a licensed mental health provider, as well as coordinating care with that provider.
Haugen said it is important for athletic trainers to have a good network of mental health experts who they can refer athletes and patients to, adding that the more members on an athletic trainer's mental health team, the less they'll have to navigate themselves. But how does one build a network of mental health resources and referrals? Here are four ways in which an athletic trainer can start to build their team:
1. Identify on-campus resources: Whether in the secondary school setting or collegiate setting, one of the first places an athletic trainer can turn to for support is his/her institution's mental health resources.
At the collegiate level, Haugen recommends reaching out to the counseling center and building relationships with those who work with athletes or have an interest in working with athletes.
For those in the secondary school setting, she recommends contacting the school's counselor or psychologist. If one isn't available at the school, reach out to the school district.
2. Look around your local community: While it is important to have on-campus mental health resources, athletic trainers shouldn't stop there, Haugen said.
"I encourage athletic trainers to have people both on campus and off campus because sometimes athletes don't want to see someone on campus," she said. "They'd prefer to see someone off campus."
Haugen recommends searching your local area for mental health providers, especially those who specialize in athletics. A simple phone call can start a conversation that can lead to collaboration.
3. Reach out to your state psychosocial association: Another resource available to athletic trainers is their state psychological association.
"Each state has one," Haugen said. "Ideally, it can connect you to a licensed mental health provider with sports-specific training."
While, Haugen said, it can be hard to find mental health providers with sports-specific training, there are several providers who are interested in working with athletes. It's not unheard of for a sports-specific mental health provider to consult with a more general mental health provider, making sure they stay abreast of those psychological aspects that are unique to athletes.
4. Utilize technology: Telehealth has taken off in recent years, allowing patients to connect with health care providers more readily than traditional in-person appointments. This includes mental health providers. Through telehealth, athletes, especially those in rural areas, have greater access to resources and medical professionals outside of what their geographic area has to offer.
"Even if there isn't a mental health provider in their immediate community, they can still receive help," Haugen said of the benefit of using telehealth.
While these tips can help athletic trainers in every setting, Haugen said it's important to remember that there may be additional requirements when it comes to minors.
"The biggest difference is wanting to have the guardian involved as well," she said. "Different states have different laws about when minors can seek mental health services on their own."
In addition to the mental health articles found in the May NATA News, NATA offers a variety of mental health resources to members.