April 23, 2018 by
Beth Sitzler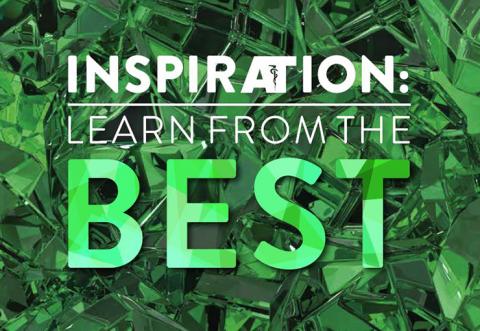 The May NATA News includes profiles on the seven members who will be inducted into the NATA Hall of Fame during the 69th NATA Clinical Symposia & AT Expo this June in New Orleans. In addition to discussing their mentors and the value of giving back, the Hall of Fame inductees also shared their hopes for the future of the athletic training profession:
Kent Biggerstaff, ATC, LAT: I would hope that our profession continues to grow and we see ATs at all high schools as well as continuing to expand in the non-traditional settings.
Nancy C. Burke, MS, AT Ret.: We were born on muddy fields, cinder tracks and basketball courts. We have grown to include clinics, physician practices, public safety, military and fine arts and will expand from there. My hope is that we are mindful of our past, not forgetting our roots as many of us continue to practice on those fields, tracks (now composite) and courts. We need it to guide the future. We all need to work together to maintain what we have and to grow as an athletic training profession. Lines are starting to blur in medical practice with some clinical areas flowing from one discipline to another. It is critical that all state practice acts agree and support athletic trainers for the active individual – be one on the field, in the patrol car, on the stage, on the courts, in various industries, clinics or on the training ground for our soldiers.
John Davis, MS, ATC: I am sure athletic trainers will continue to gain more nationwide recognition as health care professionals. We are light-years from when I first started focusing on this profession in the late 1970s and had to explain to my mother what an athletic trainer was. I see the impact our profession has on student athletes at MSU and in my local community. They greatly value our knowledge and expertise.
Marty Matney, MBA, LAT, ATC, LPTA: For continued growth in unique settings we currently find ourselves in and to identify and grow those fields we have yet to realize. Our profession is so diverse and there is so much opportunity. I feel we are on the doorstep of real evolution of the profession.
I would like to be on par with other health care professions. We are medical professionals and have fought hard for our seat at the table. It is my hope that the athletic training profession will become the acknowledged leader in the prevention and care of musculoskeletal injuries and disease for the physically active in America.
Gary D. Reinholtz, MA, ATC: The willingness to change is the key to any profession, and NATA has always done this over the years. This is how a profession grows and remains strong.
René Revis Shingles, PhD, AT, ATC: The future of athletic training is bright. I know we will continue to solidify our place in the health care industry, particularly as professionals who best understand prevention of injuries and concussion management. I look forward to the day when there will be an athletic trainer in every high school and middle school where sports are offered. Lastly, I welcome the day when all laws governing athletic training will allow athletic trainers to practice their full scope of practice.
Jim Thornton, MA, LAT, ATC: My hope, I believe, is the same for most of our members. I hope for better recognition of the value of our professional interventions in care, treatment, prevention and rehabilitation for the patients in our charge.
I hope for research that proves our value and stimulates better wages. I hope our members think more of themselves and stand up as health care providers with skills that no one else possesses. I hope we continue to add to our tool box and our education never ceases. I hope we understand the importance of evidence-based practice and actually practice that way.
I hope for better prevention strategies for our patients. I hope for better staff-to-patient ratios in our colleges, universities and secondary schools. I hope for an athletic trainer in every secondary school.
I hope for up-to-date state and federal laws that help the athletic trainer in every setting. I hope for third party reimbursement initially in our hospitals and clinics and eventually across the board in every setting.
I hope to see NATAPAC grow as well as the NATA Foundation. I hope we continue as a caring, humble and compassionate profession that makes sure we take care of our own in crisis.
The relationships that have existed in this profession throughout our history is the foundation of who we are as a people and what we are as a profession. The people of this profession are our most valuable assets, and I believe helping each other will help us through the issues of modern day health care.