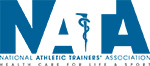 A 2012 membership survey indicated the need for a new logo that would better represent where athletic trainers are positioned within the health care marketplace. NATA created a new brand for athletic trainers with a greater emphasis on medicine. Asleek, modern logo draws attention to the "AT" portion of NATA by reversing those two letters.
This video explains how the decision was made to create a new logo and explains the details and thought process behind the design elements.
The NATA logo and all components, including the stylized Rod of Asclepius and "AT" graphic, are protected by copyright and may not be used by third parties.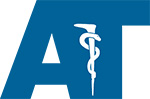 When we developed our new NATA logo, we made our design decisions based upon building the AT brand. We want everyone to know who athletic trainers are and to understand the service they are providing to physically active people across the country, so we embraced the AT symbol as a visual representation of the overall athletic training brand. Interested in acquiring a license to use the AT symbol? The license is free for NATA members and can be purchased by non-members for a fee. Download the AT logo on our licensing website.
---

2008
In keeping with efforts to reinvigorate the association, NATA created this modern image. The form in motion, combined with our tagline of "Health Care for Life & Sport." portrays a dynamic medical profession without pigeonholing it; the clean lines also serve to focus attention on the name of our association.
---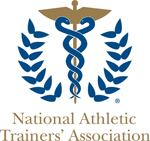 1991
The time had come to establish a different visual presentation with a new design direction, which included the laurel wreath.
---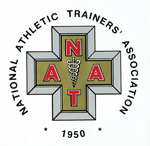 1984
The board decided to polish the original logo.
---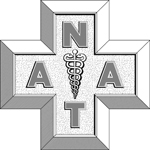 1952
A four-man committee selected this visual to be the emblem of NATA, and it more or less endured (with occasional minor tweaks) for several decades. The committee included Chair Jack Cramer; Dwayne Dixon of Indiana University; Frank Medina of the University of Texas; and Dean Nesmith of the University of Kansas.