May 2, 2014 by
Todd Christman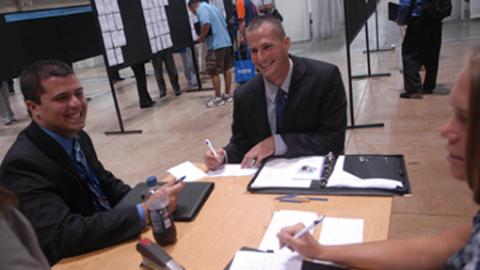 By Brian Bradley, MS, LAT, CSCS, Head Athletic Trainer Bishop Moore Catholic High School
So you have already found that job posting on the
NATA Career Center
, applied, and been contacted for an interview. Other than getting your suit cleaned and copies of your resume printed, what else should you do? Most people will prepare for the usual questions they are asked ("What are your strengths and weaknesses?" "What makes you a great candidate for the job?") and even some funky ones ("If you were a kind of Athletic Tape what would you be?"). But a wise move would be to have questions to ask the interviewer, more than the common ones ("What is the pay and/or benefits?" "What are the hours?"). Here is a list of great questions that you may want to ask that will show you are knowledgeable and are prepared.  
Secondary School:
Are there any practice or game sites off campus?
How was the relationship with the school nurse and the previous AT?
Are there any teaching opportunities or requirements?
Who is charge of physicals and consent forms?
Does the school do neurocognitive testing?
Would I be responsible for non-athletic related injuries?
Collegiate
:
How close is the nearest hospital/ team physicians' office?
How do the student-athletes get transported to physician appointments?
If a student-athlete needs counseling (nutritional or psychological), is it available on campus?
What would my role be in drug testing?
How well does the Strength and Conditioning Coaches work with the ATs?
Sales
:
Is there a current list of clients or do I have to generate that on my own?
Is there a current list of conferences or seminars that need to be attended or do I generate that on my own?
Are there any new products the company is coming out with in the near future?
Clinic/Physician Extender
:
Is there an opportunity to obtain additional certifications (BMO (X-Ray Tech), Graston, Kinesiotape, etc.)?
Is there a continuing education allowance?
Are there any outreach requirements/opportunities?
Professional
:
How do the athletes get to their physician appointments?
What would my role be in drug testing?
What other medical personnel is on site during practice/games?
These are just a few of the questions that you may want to ask during your job interview. There are
other resources
that can be found on the NATA Career Center's website.
And if you are going to be at the convention in Indianapolis, be sure to stop by the
on-site NATA Career Center
, sponsored by Gatorade. Employers will be conducting interviews there but you can search and apply for online jobs in advance. This will put you in the best position to set up interviews even before heading to Indianapolis.  Employers will also be able to post positions onsite – so keep checking even after you arrive!