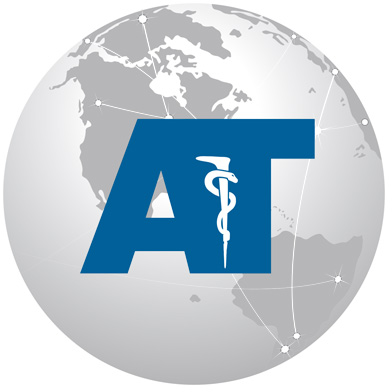 Connect with the Committee
The International Committee addresses concerns of NATA members who wish to, or are, living, working or stationed outside the United States. It reviews and recommends policies and procedures to the NATA Board of Directors on behalf of these members. Members of the committee promote the NATA brand internationally and the use of certified athletic trainers in the international job market. The committee may recommend patronage and sponsor requests by other international organizations, while supporting activities related to World Federation of Athletic Training and Therapy (WFATT), a separate entity of which NATA is a member.
Learn more about working internationally.
Connect Online
Join the International Committee on LinkedIn, Facebook and Twitter.
For more information about the NATA International Committee and our current projects, contact Chair Matthew Kutz or submit a question in the inquiry box at the bottom of the page.
Connect with International Ambassadors
The NATA International Committee has launched an International Ambassador's Program for ATs needing assistance when moving to or practicing in a foreign country. Currently ambassadors are in place for Australia, Belgium, China, East Africa, Germany, Japan, Spain and U.K. The International Committee is looking to add several ambassadors to its existing list.
NATA International Ambassadors are asked to help by providing guidance and assistance to athletic trainers moving abroad with navigating the complexity of living and practicing in another country. Often, ATs wishing to practice abroad need help with securing travel visas, establishing bank accounts, housing recommendations, learning local practice standards and specific cultural expectations, etc.
If you are an AT who has significant/meaningful experience in another country who is able to advise and is interested in being an NATA International Ambassador by making yourself available to interested ATs, volunteer by reaching out to International Committee member Thomas Kaminski by filling out this email form.
NATA International Ambassador Program Application Process
Connect to International Events
The following non-NATA events are available:
WFATT World Congress: The World Federation of Athletic Training and Therapy World Congress hosts a meeting annually.
CATA Annual Conference: Each spring, the Canadian Athletic Therapists' Association hosts a meeting for athletic therapists and other sports medicine professionals filled with workshops, lectures, keynote speakers, exhibits and social events. It incorporates educational content for professionals of all levels.
IOC World Conference on Prevention of Injury & Illness in Sport: This premier international conference hosted by the International Olympic Committee is a rare opportunity for the global sport and exercise medicine community to meet face to face. It occurs only once every three years.
Asia-Pacific Athletic Trainers Society: This society hosts an annual conference for members and health care providers in China, typically occurring in March. 
ICSSPE Member Association Events: Bringing together a wide range of scientific and professional organizations of various sport branches and disciplines, the International Council for Sport Science and Physical Education helps create the possibility for interdisciplinary collaboration. The website features a number of upcoming international sports medicine related events.
Connect to International Associations
WORLD FEDERATION OF ATHLETIC TRAINING AND THERAPY (WFATT)
WFATT is a coalition of national organizations of health care professionals in the fields of sports, exercise, injury/illness prevention and treatment. WFATT seeks to promote the highest quality for health care and functional activity through the collaborative efforts of its members with a vision to promote quality health care worldwide to active populations. NATA is a charter member of WFATT. If you would like to find more information, visit the WFATT website.
INTERNATIONAL AND NATIONAL ATHLETIC TRAINING ASSOCIATIONS
Looking for the associations for certain countries? View our list of international and national AT associations.