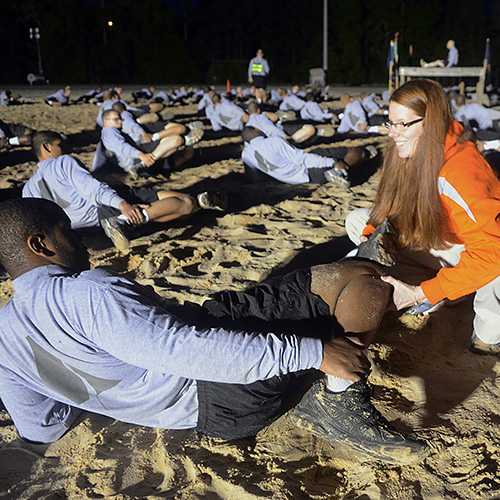 Connect
Connect with other athletic trainers in emerging settings, including fellow military ATs.
For more information on the armed forces setting, contact the Armed Forces Chair on the Council on Practice Advancement.
Related Link: The Armed Forces Athletic Trainers' Society works to promote the athletic training profession in support of the U.S. Armed Forces by educating military leaders and working in a coordinated effort to promote the benefits of athletic training services to service members.
Military AT Job Grant Program
NATA has created a grant process for government contractors who are looking to employ athletic trainers in the military setting.  
ATs working within the military are not new, but recent expansions have increased visibility and demand for qualified health care professionals to work for the U.S. Armed Forces.
To participate, government contractors need to fill out this form.
ATs who are interested in learning about government contract positions can read more and search for posted positions on NATA's Career Center.
Resources
Military Job Codes
| | |
| --- | --- |
| 0018 | Safety and Occupational Health |
| 0030 | Sports Specialist |
| 0188 | Recreational Specialist |
| 0404 | Biological Science Technician |
| 0413 | Physiology |
| 0601 | Allied Health Positions--New and Emerging |
| 0603 | Physicians Assistant |
| 0607 | General Health Science |
| 0610 | Nurse |
| 0621 | Nursing Assistant |
| 0630 | Dietitian & Nutritionist |
| 0631 | Occupational Therapist |
| 0633 | Physical Therapy |
| 0635 | Corrective Therapist |
| 0636 | Rehabilitation Therapy Assistant |
| 0640 | Health Aide and Technician |
| 0645 | Medical Technician |
| 0668 | Podiatrist |
| 0671 | Health System Specialist |
| 0685 | Public Health Program Specialist |
| 1701 | General Education and Training (This is our current Series of the FLETC A.T.,C.'s) |
| 1702 | Education and Training Technician |
| 1712 | Training Specialist |
| 1720 | Education Program |
| 1725 | Public Health Educator |
| 1740 | Education Services |
Contact
COPA Armed Forces Committee Chair
Andrea Matthes Berg, DHSc, LAT, ATC