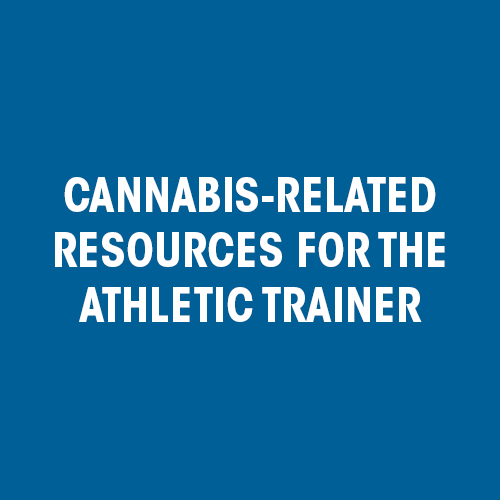 Cannabinoid and Cannabis Use Resources*
The NATA Cannabinoid Task Force has curated a series of members-only resources for athletic trainers.
About the NATA Cannabinoid Task Force
Jeff G. Konin, PhD, ATC, PT, FACSM, FNATA led the Development of Cannabis-Related Resources for the Athletic Trainer Task Force. The task force charge was to create resources to address the demand for information related to cannabis (a plant) and cannabinoids, components of the plant (i.e. THC, CBD, etc.) to support the demand for information from athletic trainers and the growing adoption of cannabis-related products among various patient populations and rapidly changing regulations. Thank you to the task force for this compilation of materials.
Task Force Members:
Jeff Konin, PhD, ATC, PT, FACSM, FNATA
Joelle Rehberg, DO
Mark Knoblauch, PhD, LAT ,ATC, CSCS
Kevin Morley, DAT, ATC, LAT
Tiffany Morton, MS, ATC, LAT
Lindsey Ayala, DPT, PT, LAT, ATC, MTC
James Onate, PhD, AT, ATC
Donita Valentine, DAT, AT
Eric Quandt, Esq
Corey Tremble, LAT, ATC, CSCS
Daryl Osbahr, MD
Joshua Free, ATC, SCAT (Student representative)
Marisa Brunett, MS LAT, ATC
Donna Wesley, MS, LAT, ATC
Task Force Goals:
Gather factual resources for athletic trainers regarding the current state of cannabinoid science
Provide a working terminology of cannabis for athletic trainers
Identify federal and state laws regarding cannabis regulation
Identify Professional Organizations  policies/resources on cannabis
Provide evidence-based information regarding benefits and risks associated with cannabis
Create educational tip sheets for athletic trainers communicating with patients
Recommend risk management guidance for cannabis
---
Disclaimer
The curated content on this page is provided solely for educational purposes and is intended solely for athletic trainers as an initial source of information.  Neither the National Athletic Trainers' Association nor any of its affiliates recommend or endorse treatment with or possession of any of the products discussed in these materials ("the Products").  Certain state and local jurisdictions prohibit the possession of or treatment with the Products, and it is the responsibility of the athletic trainer to know the laws and practice restrictions of his or her state and locality.  Even where not prohibited by the state or locality, certain of the Products, including medical marijuana, are illegal under federal law, though in recent years these federal laws have not been consistently enforced.  Finally, please note that individual athletic organizations may ban the use of the Products and such use may disqualify the athlete from competing in his or her sport(s).
*Materials compiled: August 2021 – March 2022. Posted: March 2022. Efforts have been made to provide resources that are both accurate and reflective of the information available at the time of creation. Task force members will continue to make every effort to keep this information current and accurate.