NATA has a thriving volunteer program with nearly 400 appointed positions available and many opportunities to serve on a temporary basis.
---
NATA is now accepting applications for volunteer opportunities. Please click on the heading to expand this section.
Convention Program Committee (CPC) Reviewers
Convention Program Committee (CPC) Reviewers examine proposal submissions to assist the CPC in developing programming for next year's convention. Each volunteer will review 10-20 proposals between July 23 and August 6. Sign up through the Volunteer Interest Profile below and you will be contacted for more information.
Volunteer Liaisons
Volunteer Liaisons support the profession by advocating for athletic trainers with other professional organizations, brainstorming opportunities for collaboration and sharing relevant news. Members who have experience working with the following organizations are encouraged to apply by June 17. Apply for these positions using the Volunteer Liaison Application
Academy of Nutrition and Dietetics Sports, Cardiovascular and Wellness Nutrition Group
American Kinesiology Association
American Kinesiotherapy Association
American Medical Society for Sports Medicine
American Red Cross
Association of Schools of Allied Health Professions
National Association of EMTs
National Association of Orthopaedic Technologists
National Association of School Nurses
National Association of Sport and Physical Activity
National Operating Commission on Standards for Athletic Equipment
NCAA Hockey Committee USA Football
---
Committee Members
NATA's committees are composed of a representative from each district, plus a number of at-large members as applicable. Most committee members serve one-year terms renewable up to a total of four year of service.  Districts conduct their own recruitment processes for their representatives.  The application process occurs in August and September for positions opening the following June. View the list of NATA committees.  
---
Liaisons
NATA also has liaisons to external affiliated organizations.  Liaisons represent NATA to outside groups, monitor the group's communications between NATA and the outside group for information of interest and relevance to NATA's strategic plan and propose collaborations between NATA and the outside group.  Liaisons serve two-year terms renewable up to a total of four years of service.  An application process for open positions is conducted each spring.  View the list of NATA liaison groups.  
---
Short-Term Opportunities
Another good starting place for new opportunities is in the huge variety of short-term positions that come up throughout the year.  Anyone can participate in Captiol Hill Day or write a letter to your legislators.  We always need volunteers to assist at convention, ATEC and other events during the year.  The CPC also needs volunteers to review convention proposals each July - August.  Other committees need volunteers to serve on subgroups, review documents, take surveys or participate in focus groups, assist in information-gathering and many other tasks.  Fill out a volunteer profile (below) to get on the list to learn more about these opportunities.  
---
State/District Positions
A great way to gain experience for national positions is by volunteering in your state or district.  Contact your state/district leaders for more information on opportunities and open positions.  
The below is a clickable map by region: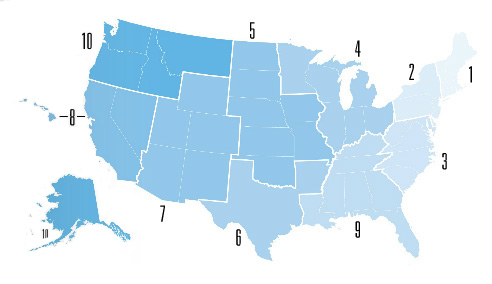 Interested in serving?  Fill out a volunteer profile to get on the list to learn more about these opportunities.
Have more questions? Contact Ruth in the Volunteer department.