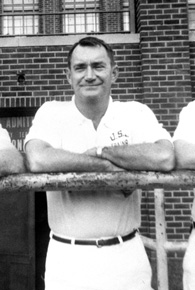 The Bobby Gunn Student Leadership Award was established to recognize one of the true pioneers in athletic training -- and to give deserving students assistance in attending NATA Clinical Symposia & AT Expo.
Who was Bobby Gunn?
NATA's first president and an invaluable leader for the athletic training profession. He passed away in March 2007. You can read all about Bobby Gunn's legacy in the April 2007 edition of the NATA News.
Who's eligible?
Undergraduate or entry-level master's students who are members of NATA.
What's the award?
The district provides a travel stipend for the NATA convention. NATA will waive the convention registration fee for each of the winners.
Presentation
The award recipients will be recognized at the annual meeting during the Pinky Newell Scholarship & Student Leadership Breakfast.
How to apply
Each district has its own application process and selection criteria. For details contact your district director.