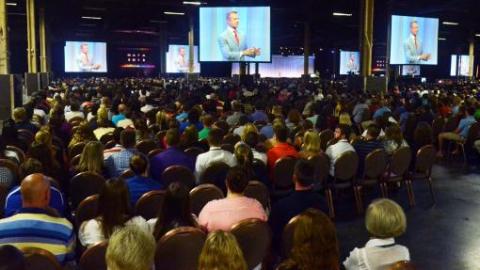 By Jeremy Hawkins, PhD, ATC, ATP Director, Colorado Mesa University
Soon, athletic trainers and AT students from across the country will gather for the NATA Convention. I would like to take a minute to discuss a few things that athletic training students can do to prepare for the annual event. Since I know that not everyone can attend the convention, I will break my suggestions into two sections: one for those who will be there and one for those who will not.  
For students who are going to convention:
Do your homework:  I typically will look through the Convention Guide and plan to attend sessions I am either interested in or sessions that cover content in which I feel deficient. With the need to now have a certain number of evidence-based practice CEUs, it would be a good idea to get in the habit of picking up some of these CEUs annually. Plan to attend as many Free Communication sessions as you can. These sessions are where current research is presented, and attending these sessions will introduce you to research and may help guide you on a research project you can complete as a graduate student.You might also be able to interact with individuals who attend or teach/research at the graduate schools you're considering. 
Network: Take the opportunity to introduce yourself to as many people as you can. You may or may not be looking to land a position this summer, but you will need a job in the near future. Make a positive impression now by being outgoing, professional and confident. 
Attend your school's alumni party (if they have one):  This goes hand in hand with networking. As the saying goes, you don't know where you are going without knowing where you have have been. Attending your school's alumni party, even if you are not an alumnus yet, will help you make invaluable connections. It will help deepen your affinity for your athletic training program. These alumni events can be one of the many highlights of the convention.
For students who are not going to convention:
Do your homework:  Look through the Convention Guide just as if you were attending the meeting. Instead of planning what sessions you will attend, determine what you would like to learn. Once identified, either contact the presenter who is giving the presentation or see if someone who is attending the meeting would be willing to go for you and share his/her notes. You will also find the Journal of Athletic Training Supplement (soon to be published) to be a great resource similar to attending the Free Communications advice from above.  The key is to reach out to those who presented and ask questions as needed. Many of the presentations and handouts are posted on the NATA convention website after the event.  
Stay informed from a distance. Visit www.nata.org throughout the week to stay up to date with the information published therein. This can be a great resource for you. NATA will be live-tweeting during the convention, so that's another way to follow along when you can't be there in person. 
Look ahead! Begin planning now for Baltimore (June 22 – 25, 2016).
The NATA Clinical Symposia & AT Expo is something I look forward to each year.  It is a great opportunity to reconnect with past colleagues and educators, but can also be a literal feast of information. With proper preparation, you can make the most of this exciting experience and set yourself up for further success when you graduate.
Posted by NATA News Editor-in-Chief Jordan Grantham (jordang@nata.org) on behalf of blog author Jeremy Hawkins, PhD, ATC. Interested in contributing to the blog? Email Jordan at  jordang@nata.org.