General Information
NATA Membership Department
Once logged in, NATA members can:
FIRST TIME VISITING THE WEBSITE?
We ask that all members use the "Membership Account Retrieval" form found on the User Login page. In order to ensure the safety of membership information, it is important for current and active members to verify their account with NATA. To retrieve your account on the new NATA.org website, please follow these steps:
Go to "Login" at the top of the page.
Fill out the "Password Retrieval" form by entering the email associated with your NATA Membership.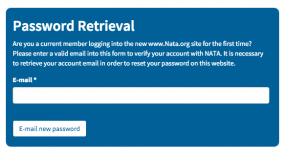 If your email account has been successfully retrieved and verified, the website will send a one-time login link to that email.
If this email is not found, the site will send you to Membership Account Retrieval form. Enter your first Name, last name, country, zipcode and member ID.
 

If your account has been successfully retrieved, the next page will ask you to verify that we have the correct email address associated with your account.
 

If this email presented is not correct (for example: the email we have on file is an old .edu account and you wish to change it), please enter a new email address and check the box to change the email we have on file for you.
Click "E-mail new password" and a new one-time login link will be sent to your email. Please check your email to retrieve this link. The login link that is sent to you can only be used once. If, for any reason, your email is lost, you may use the "Membership Account Retrieval" form more than once. 
If you are still having any problems with logging in, please submit an issue to membership using the Reset Account Information form. The NATA membership team will contact you within 24 hours.
 
Forgot your password?
If your membership is paid and up to date, you can log in to the site to access your members-only information. Use this form ONLY if you have already successfully logged into the new site and verified your account using Membership Account Retrieval.