November 25, 2019 by
Todd Christman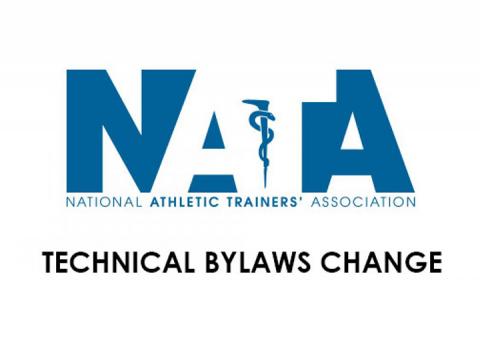 The National Athletic Trainers' Association (NATA) Board of Directors approved a technical change to its bylaws, specifically section 8.2 (a), during its conference call on Monday, November 25, 2019.
The change allows the association to hold its Presidential Nominating Committee meeting during the January 2020 Joint Committee Meeting (JCM). The previous version restricted that meeting to the Annual Meeting only. Among other benefits, this change allows more time to get to know the presidential candidates. This is considered a technical change because the make-up and objectives of the meeting do not change.
Here is the revised language for section 8.2 (a): (effective 60 days from this notice)
8.2 President.
(a) Nomination. If more than two (2) candidates choose to stand for election, the Presidential Nominating Committee shall (subject to qualifications contained in these bylaws) nominate two (2) candidates for President at a meeting to occur within one (1) year prior to the election of the President, which shall take place before the Annual Members' Meeting at which the current President's term ends. Each candidate must be a Certified-Regular Member or a Certified-Student Member, and must have been a Director during some portion of the four-year period prior to the nomination.
Per the bylaws, this technical change was unanimously approved by the NATA Board of Directors and included an affirmative vote from the NATA President. The bylaws take effect 60 days from the date of this announcement.
Below are the sections of the bylaws which explain technical versus substantive changes:
ARTICLE 12
AMENDMENTS
12.1 Substantive Changes. These Bylaws may be altered, amended, supplemented, or repealed after any such changes, approved by the Board of Directors, are submitted to each of the Districts' annual business meetings, and are approved by at least two-thirds (2/3) of the total number of Districts. Any changes so approved shall be resubmitted to the Board of Directors. If the Board of Directors then approves the changes by at least a two-thirds (2/3) vote of the number of Directors then in office (excluding the President), the changes shall thereupon become effective.
12.2 Technical Changes. Technical corrections to the Bylaws may be made by a unanimous vote of the Board of Directors, including the vote of the President. If the Bylaws are altered, amended or supplemented in this manner, the changes shall not become effective until 60 days after the Membership has been advised of the changes.
For your information, a copy of the current bylaws can be found here. The new update will be effective 60 days from the date of this notification.