February 1, 2019 by
ToddC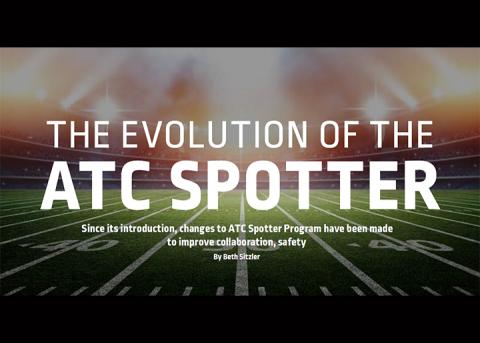 Excerpt from January 2018 NATA News
Since its inception at the end of the 2011-12 season, the NFL's ATC Spotter program has evolved and changed over the years, placing more responsibility in the hands of those "eyes in the sky" and creating more collaboration with the medical staff on the field.
The ATC Spotter program was formed after Cleveland Browns quarterback Colt McCoy received a helmet-to-helmet hit from Pittsburgh Steelers player James Harrison. As a result of the incident, the NFL Players Association and the NFL Head, Neck and Spine Committee met to come up with ways to reduce the possibility of such situations occurring in the future.
"We did two things: First, we put radios on all the medical personnel – doctors and athletic trainers – so we could talk to each other about what we were seeing in the game; and second, of course, we discussed putting ATC spotters in the booth," said Ronnie Barnes, ATC, head athletic trainer for the New York Giants and member of the NFL Head, Neck and Spine Committee. "[The ATC Spotter program] has been fantastic because often there are players who have stumbled coming out of the huddle and not seen from the bench, but the ATC spotter can see that. Sometimes there is head-to-head contact or head-to-ground contact that we can't see, and they've been able to observe that."
When the ATC Spotter program was first introduced, there were questions as to how the ATC spotters would fit into the NFL's sports medicine teams. It was soon realized that having another set of eyes on the field was a benefit for not only the players, but the medical staff on the sidelines.
You can read the rest of the article here and learn more about ATC Spotters by watching the "The Eye in the Sky" video at the NFL's Prepare to Play site.