October 9, 2014 by
NATA Admin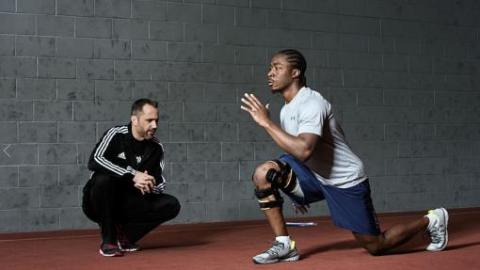 San Francisco 49ers rookie Marcus Lattimore has been making headlines lately, and still has yet to play one minute in his NFL career. As NFL commentators and critics debate whether he'll be removed from the team's non-football injury list to the active roster for the Rams game on Oct. 13, Lattimore's nonprofit foundation is generating media buzz over a new concussion awareness initative benefitting South Carolina's young football athletes.
 
Since being drafted last year, Lattimore has made a make a slow, steady recovery from injuries that have plagued him since his college football days at the University of South Carolina: A concussion he suffered his freshman season in 2012 followed by two back-to-back season-ending knee injuries. It was this extended time off the field, however, that helped Lattimore understand and appreciate the work of ATs and sports medicine staff.
 
"When he got hurt at Carolina, it exposed us to the sports medicine world that we really didn't know anything about," Lattimore's stepfather Vernon Smith, who also serves as president of the Marcus Lattimore Foundation, told USC sports media. "We knew the [athletic] trainers were there and the doctors were there, but when you're inside the [AT facility] you see what really makes the program go with these people. This is something they love to do."
 
The Marcus Lattimore Foundation supports youth development programs in local communities. This week, it announced a new concussion awareness initiative called C.A.P.S. from the foundation's research division. The foundation plans to donate nearly 400 helmet-mounted impact sensors to two South Carolina youth football programs and area high schools. The safety devices monitor force applied to the head during tackles, as well as potential sub-concussive injuries.
 
Although the sensors won't necessarily prevent concussions or make athletes safer on the field (a traumatic brain injury is a traumatic brain injury, regardless of helmet type), that's not the intention of the C.A.P.S. program. Rather, it was to draw attention to the issue of sports safety among kids. "The youth level doesn't have athletic trainers. They're not mandated," Smith said. "The primary goal [of C.A.P.S.] is to educate parents and coaches on concussions – how to recognize the symptoms and the type of care required.

-posted by NATA News Managing Editor Jaimie Siegle (jaimies@nata.org).



Photo via Marcus Lattimore Foundation.