October 5, 2022 by
Lydia Hicks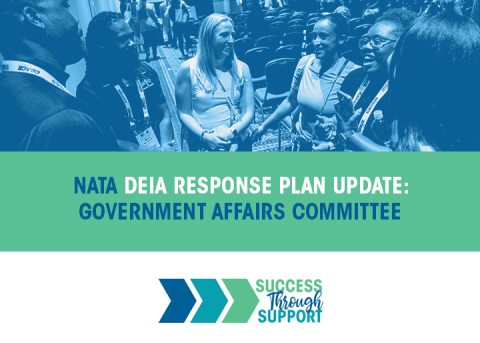 As part of Phase Six of NATA's Diversity, Equity, Inclusion and Access (DEIA) Response Plan, each NATA committee, commission and council was tasked with developing three to five actionable items that support one or more of the six NATA DEIA Commitments.
In this blog post, which is part of an ongoing series highlighting these efforts, NATA Government Affairs Committee Chair Anna Sedory, MS, ATC, CSCS, outlines GAC's actionable items, what the committee hopes to achieve and how members can get involved.
 
What are your committee's three to five DEIA actionable items, and why were they selected?
 
In our 2022 Fall Webinar Series event, "Improving Access to and for ATs Through Legislative Advocacy," NATA GAC representatives will help athletic trainers explore the connection between common legislative advocacy goals and DEIA goals, such as increasing access to ATs and increasing access to the profession for students. 
 
For our NATA 2022 committee presentation, GAC collaborated with the NATA LGBTQ+ Advisory Committee to discuss transgender laws (there's more out there affecting ATs than most realize).
 
We have an ongoing spreadsheet detailing current state advocacy work on laws relating to DEIA.
 
Tell us about the development process that led your committee to these actionable items.
In addition to holding a committee-wide discussion, we formed a subcommittee to specifically develop our actionable items.
How will the actionable items you've outlined impact NATA's members?
These actionable items will help members make the connection between legislative advocacy and DEIA issues in an area where it might be less obvious.
How do you hope your committee's actionable items will contribute to NATA's overall efforts to improve DEIA?Positive legislation for ATs improves access to ATs (examples, public health and primary care) for underserved populations and could potentially improve diversity within the profession through service grants and federal student loan forgiveness.
Where are you in completing your three to five actionable items
Item No. 2 was completed this summer; item No. 1 will be completed in October; and item No. 3 will be continuous and contribute to future efforts.
How can your fellow NATA members help bring these actionable items to life?
Get involved in state leadership and legislative advocacy.
Where can members learn more about your committee's DEIA efforts 
Members can contact NATA GAC Chair Anna Sedory (amasedory8@gmail.com), NATA Manager of State Governmental Affairs Deanna Kuykendall (deannak@nata.org) or the NATA GAC district representative responsible for their state/district.