March 20, 2015 by
JordanG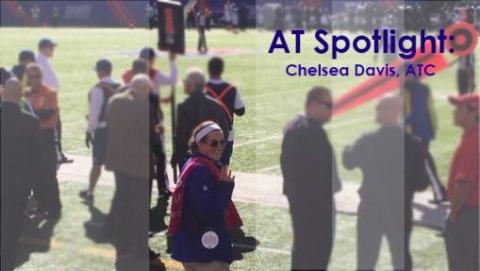 We're starting a new series where we spotlight an athletic trainer or AT student each month. Our first AT spotlight is Chelsea Davis, a senior AT student (who just passed her certification exam!) at Montclair State University.

Chelsea has taken a very interesting path to this point, overcoming homelessness and other hardships to achieve her dream of becoming an athletic trainer. She was nominated by Marsha Grant-Ford, PhD, ATC, who said: "She is an extraordinary young woman who has seen more than her share of hardships and has triumphed." She went on to explain how Chelsea has worked her way through college by waitressing and working odd jobs, all while balancing a demanding course load. "To be honest, I cannot think of any time when we have heard excuses from her. She had a dual clinical assignment one semester. I'm not sure when she sleeps, actually."

Chelsea was profiled in full in the April NATA News  , but we have a few more questions we didn't get to include in the magazine. Keep reading to learn more about Chelsea.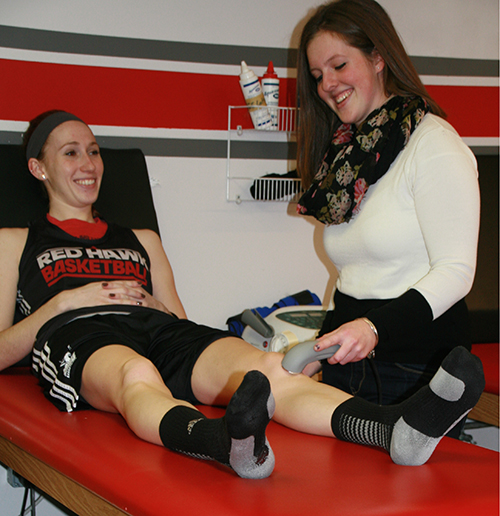 Q: What do you like best about athletic training?
Chelsea: Rehabbing. I love being able to return an athlete to play. There's nothing more exciting than seeing the face of an athlete who comes back and scores a goal or makes a play, and knowing you had a hand in that.
 
Q: What's your biggest athletic training success so far?
Winning the NATA Foundation's Ronnie Barnes Scholarship this summer, and knowing I was going to be working with the [New York] Giants.
 
Q: What advice do you have for young athletic training students?
Do what you love. Then see who else is doing it and learn from them. Look for the person who's putting 100 percent of themselves into it – and don't give up until you find that mentor.
 
Q: Will you share your tips on preparing for grad school?
Start early! Honestly, the earlier the better. Constantly look at the NATA Career Center; there are things on there all the time. Also talk to your mentors and see where they went to school or what they're hearing from their friends. There's a ton of programs out there, but it's highly competitive, so keep your options open. Apply to as many as you can.
 
Q: What's your career goal?
I want to work as the grad assistant athletic trainer wherever I end up in grad school. In the long run my ultimate goal is to be a head athletic trainer at a high school. I absolutely love it. I love working with kids. They're just bundles of energy I wish I had sometimes. And in a high school you're exposed to all different sports, not just the same sport over and over. I like that. I like motivating and inspiring other people, and I hope to do that for others.
 
Q: How has your struggle shaped your approach to life?
One of the most important things to take from my experience is to sincerely believe everything happens for a reason. You don't ever have to go through anything alone. And if you believe in yourself and keep working, things can work out.


Posted by Communications Manager Jordan Grantham (jordang@nata.org)
Photos courtesy of Chelsea Davis, ATC