March 29, 2018 by
JordanG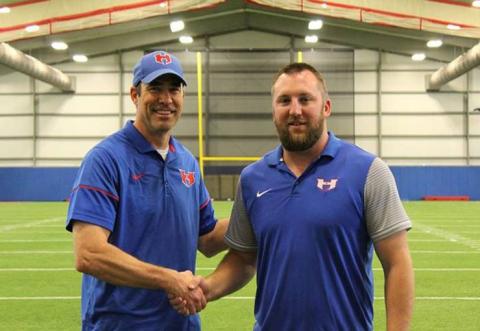 The 101 Awards, held Feb. 28, 2018, honored Colby Barron, ATC, for saving the life of a 12-year old football player.
Barron was an honored guest at the 48th Annual NFL 101 Awards, an event hosted by the Kansas City Chiefs that benefits The University of Kansas Health System. Proceeds from the award ceremony, which honored current and former NFL coaches and players including Peyton Manning, Aaron Donald, Antonio Brown, Calais Campbell, Doug Marrone and Sean McVay, help the Sports Medicine & Performance Center at The University of Kansas Health System improve the health and wellness of student athletes throughout the Kansas City area.  The University of Kansas Health System provides full-time athletic trainers to 13 high schools in the Blue Valley, De Soto, Lansing, and Shawnee Mission school districts as well as athletic training coverage to 5 area middle schools.
As part of The University of Kansas Health System's partnership with the 101 Awards, the program recognizes an outstanding athletic trainer who has contributed to saving the life of an athlete. Barron put his education and training to work when a middle school football player collapsed and went into cardiac arrest. Read on for the full story.
Confidence in Crisis
Barron, athletic trainer for Henderson High School in Texas, was providing care during the 7th grade game on Oct. 5 when 12-year old football player from the opposing team, Jasabira Pope, went into cardiac arrest during halftime. Barron immediately called 911 and sent for the AED. Barron and the fire captain worked together to deploy the AED and provide CPR, and the athlete began breathing again.
The athlete was transported by ambulance from the stadium field to the practice field, where a medical helicopter flew him to Shreverport Medical Center. Tests revealed he had an enlarged heart.
Henderson ISD recognized Barron's efforts, stating on its Facebook page: "His quick response and preparedness, for emergencies such as these likely played a large part in saving his life! Our appreciation for his knowledge and training cannot be overstated!"
Pope's mother, Laquittequa Jernigan, ran on the field when she saw her son had collapsed and watched Barron and the fire department work to save her son's life. She expressed her gratitude for Barron to the Longview News-Journal: ""I won't ever forget his face," she said. "I appreciate him so much. Words can't say at all. I'm so thankful for him, because if it wasn't for him, (Jasabira) probably wouldn't be here right now. Words can't even explain how thankful I am for him being there."
Learn more about the 101 Awards.