July 27, 2022 by
Claire Williams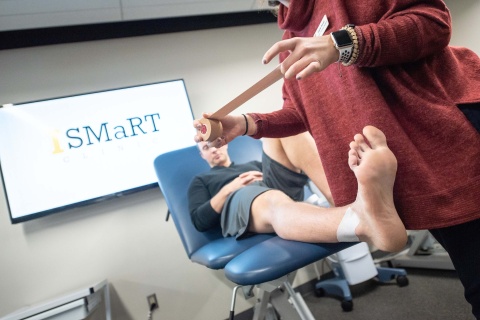 The July NATA News is all about education, from recruitment and various learning styles to ensuring the next generation of athletic trainers is ready for the job market after graduation. For these students, the hands-on learning done within clinical immersions is equally as important as the learning completed in the classroom.
The University of Idaho athletic training program takes its immersions even further, combining the responsibility of real patient care and administrative skills. The Integrated Sports Medicine and Rehabilitative Therapy Clinic (ISMaRT) is the cornerstone of the university's program and functions as a clinic on campus where students, faculty, staff and community members can visit for treatment by AT students.
Opened to the public in 2017, the ISMaRT Clinic operates as an outpatient clinic, but is student-run with the oversight of faculty and preceptors, who are faculty or doctoral athletic training students at the university.
"The focus is on the student who's within the masters of science in athletic training program to perform the patient care under our direct supervision," said Jayme Baker, DPT, LAT, ATC, clinical assistant professor and director of therapy services. "But we're challenging them to initiate the patient care, to gather the information, to critically think about what they want to do, what they want to try and they'll come to us for check-ins periodically."
The graduate programs in athletic training at U of I were created to provide a unique learning experience. This hybrid learning model, or clinical model, includes online instruction while students obtain meaningful hands-on experience in clinical rotations during the spring and fall semesters. 
"It's the ideal clinical space," Baker said.
During the fall and spring semesters, the ISMaRT Clinic is open to students, faculty, staff and community members for evaluation and treatment. The clinic sees a variety of patients, so students aren't restricted to student athletes or a specific population. Instead, they might be a 18-year-old student who's sedentary or a 70-year-old student returning to school who's very active, Baker said.
In addition to clinical learning and experience, working in the ISMaRT Clinic provides athletic training students with a focus on documentation and measuring outcomes as well as improving soft skills and communication with patients – two necessary parts of being a certified clinician.
Mika Rives, a former U of I master's student who completed three rotations in the clinic, will be an ISMaRT clinical resident and preceptor in the fall. He said outcome measures and documentation are a curriculum staple at the university.
"We develop a real familiarity with outcomes," he said.  "We use them to show progress, demonstrate worth. However, you're going to use it, you can use to sell yourself or your practice.
"I got more experience with that at the ISMaRT Clinic, far more, than any other clinical rotations I did during my master's program." 
A second year master's student, Hannah Boutwell, who will start her second rotation in the clinic in the fall, said the faculty and preceptors really push documentation in the clinic.
"They're pushing us to be thorough, but also teaching us to be efficient," Boutwell said. "It's time management to see your patient, do the treatments and document all within their appointment time.
"They're really wanting us to succeed and constantly improve. They push us to make sure that we're challenging our own thought processes and trying to make our documentation better, our time management better."
Boutwell's practice with patient communication at the clinic has been another benefit to her experience. She said she has been able to practice her soft skills and better understand the importance of patient communication.
"It's been about practicing developing a rapport with patients and being confident with your own voice," she said.
Baker's experience with the ISMaRT Clinic aligns with the program's goal of "changing and redefining patient care."
"We're not afraid to share what we're doing because our goal is to change the profession as a whole," she said. "So, creating more clinics like this, if it's possible, I'd love to see more of them."
For Boutwell and Rives, the real-life pressure of working with patients and applying classroom learning has been a game-changer.
"Having the opportunity to do the hands-on practice of things that you've learned in a real-world scenario has been really beneficial to me," Boutwell said. "The preceptors are there like a sounding board or a safety net, so they're observing us, but it's nice to have that control to develop your own clinical decision-making process."
Rives' experience echoed this. Not only, he said, did it help him develop as a student, but it was "the best synthesis of learning and experience and growth as a clinician that I've had."
Although all athletic training programs aren't equipped with an on-campus clinic, NATA does offer clinical immersion experiences. Launched on Gather, athletic training students can search and apply for immersion experiences.
Experiences are only up for about 30 days. Immersion experiences can be posted at any time, and the best way to not miss an opportunity is to sign up for notifications on Gather. Simply click Volunteer and Immersion Opportunities on the drop down tab under Participate, and click "opt in to the volunteer pool" near the top of the page to sign up for notifications.
If you have a clinical immersion experience you would like to share, fill out the NATA Immersion Experience Host Submission form and view all available immersion experiences on Gather.
*Photo provided by University of Idaho Creative Services