April 27, 2021 by
Claire Higgins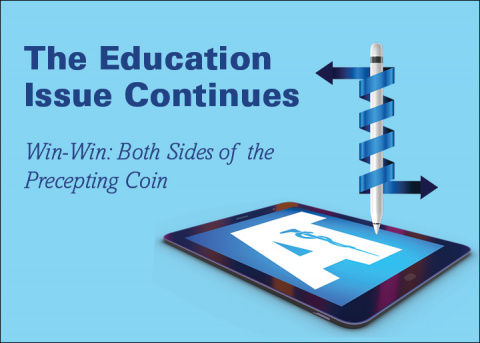 By Rebecca Marszalek, ATC, and Jeff Russell, PhD, ATC
Higher education is the key that has opened doors for me into portions of the world of performing arts medicine that I never knew existed. The pursuit of further education most recently led me to the master's in athletic training program at Ohio University in Athens, Ohio.
It's here at Ohio University that I accepted a graduate assistant position in the Clinic for Science and Health in Artistic Performance (SHAPe Clinic), where I have the incredible opportunity to work with more than 700 performing artists at the institution.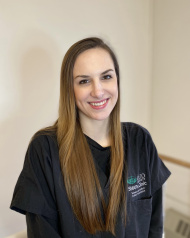 I also have taken on the role of preceptor, realizing the impact I can have on the next generation of athletic trainers was instilled in me by my own preceptors as an undergraduate athletic training student.
The SHAPe Clinic is the creation of my current supervisor and mentor, Jeff Russell, PhD, ATC, who recognized the lack of specialized health care available to performers in comparison to traditional athletes and took the steps necessary to remedy the situation. 
My performing arts athletic training story started less than two years ago during my senior year of college as an athletic training student at Bridgewater State University in Massachusetts. It was the fall semester of 2019, when I was placed with Amanda Donahue, MS, ATC, as my preceptor. That fall, my career path changed for the better.
Amanda, athletic trainer at the Palladino School of Dance and School of the Arts at Dean College in Franklin, Massachusetts, works closely with dance, theater and arts and entertainment management majors. In addition to providing specialized care for these artists in the college's clinic, she also teaches educational movement workshops and provides backstage health care for major performances.
Alongside Amanda, I was exposed to a wide variety of new manual therapy techniques and the design of performing arts-specific rehabilitation programs that I continue to incorporate into my practice at the SHAPe Clinic today. Not only did she encourage me to think critically and engage in evidence-based practice, she also helped me to finally step out of my comfort zone toward a new level of potential.
Under Amanda's tutelage, both my clinical and interpersonal skills improved exponentially and my passion for performing arts medicine certainly took root. Though I do have a background as a violinist and dancer, and have always been interested in the role of athletic trainers in the performing arts, it was not until I had the opportunity to complete an entire clinical rotation in this unique setting that I confirmed that this was where I was meant to be.
As an undergraduate athletic training student, I knew that I was not ready to end my formal education after graduating in May 2020. There was simply far too much I still hoped to learn before stepping into a full-time athletic training position. My decision to pursue a graduate degree was inspired by my desire to progress in both knowledge and skill beyond that of an entry-level clinician, as well as my dream to conduct original research that would contribute to the profession.
Throughout the graduate school application process, Amanda was there to guide me, offer her support, and cheer me on. In fact, she was the person who suggested I apply for my current graduate assistant position in the first place. Once the COVID-19 pandemic upended my culminating semester of college, including my final clinical rotation, the decision to advance my athletic training education at a CAATE-accredited post-professional program was further solidified. The only thing I knew for sure was that COVID-19 was not going to curb my intellectual curiosity.
Since beginning my master's degree and my position as an athletic trainer in the SHAPe Clinic, my life has changed in countless ways. For the first time in my life, I met athletic trainers my own age who shared the same interest in pursuing a career in this setting. My two coworkers in the clinic, Emily Eckman, ATC, and Ariana Senn, ATC, continuously inspire me to be not only a better clinician, but also a better all-around person. They are, without a doubt, the most extraordinary support system a new athletic trainer could ask for, especially during this chaotic time.
Additionally, my confidence has increased ten-fold in this short time period. As an undergraduate athletic training student, I was always much more comfortable and confident in the didactic setting sitting next to my peers. I also found that I was quite timid in the clinical setting, which represented everything scary and unknown.
I now realize that, although the classroom setting is indeed a safer place, it is the real-world clinical setting that provides me with the opportunity to make a difference in the lives of patients and ultimately find meaning in what I do.
Now, during my second semester as a graduate athletic training student and as a certified and licensed health care professional, I recognize and embrace my potential to be a leader who inspires others.
My coworkers and I currently serve as preceptors for undergraduate and graduate professional students in the university's athletic training program. In my short time as a preceptor, I have recognized that same lack of confidence that I once struggled with is present in the bright students who strive to improve daily during their time at the clinic. I see how much they know and how very capable they are, and I know it is my job to push them further, especially during their final clinical rotations.
Just as my preceptors took the time to build me up as a student, I recognize that now I must return that value to my own students.
I am indebted to all of the athletic trainers from whom I had the privilege to learn during the course of my undergraduate education. For me, the best way to thank those who taught me is to continue the cycle by inspiring the next group of athletic trainers.
During a time when the world is highly dysfunctional and there is still so much unknown, I urge other young athletic trainers to take comfort in what they can control.
I cannot change the pandemic, but I can set a positive example by wearing a mask, washing my hands often, and physical distancing.
I can control the quality of the care that I provide to my patients each day.
I can lead by example for my students to facilitate their daily growth.
I can take full advantage of my education and exhibit the traits of a lifelong learner.
My best advice to newly certified athletic trainers is to question things, maintain a healthy dose of skepticism and always strive to achieve something great.
As I reflect back on the events of the past year, I think about not only what was lost due to the pandemic, but also what was gained. My experience so far has taught me that performing artists are some of the most gracious, appreciative patients I have ever met.
There are certainly times when I am having a rough day between the stress of classes and the craziness of attending graduate school during a pandemic, but then I come into the clinic in the afternoon where I meet a new patient and I am inspired all over again.
As my mentor, Dr. Russell, recently said to me, "In order to make a difference, you have to be different."
I was never a typical athletic training student and now I am not your typical athletic trainer. And that is okay because having lived on both sides of the precepting coin, I know what energizes me. At 22 years old, I recognize that I am in a position to make a difference within a setting in this profession that possesses enormous potential for growth. I will continue to press onward.