May 19, 2020 by
Claire Williams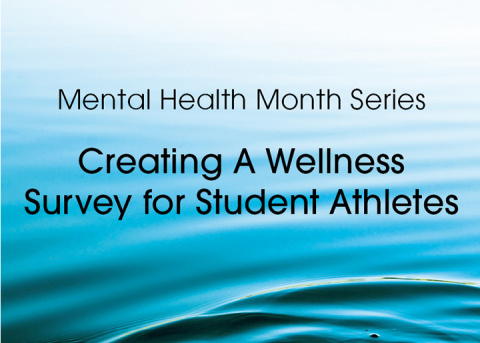 Editor's note: In honor of Mental Health Month, NATA is conducting a weekly mental health blog series throughout May to examine different facets of this topic and how they impact athletic trainers and their patients. This article focuses on how athletic trainers can create a wellness survey for secondary school student athletes.
Patient well-being, from head-to-toe and inside and out, is what athletic trainers strive to address. Mental health is an increasingly important part of the whole patient and impacts well-being and performance. As the "tweeners," as Cari Wood, ATC, puts it, athletic trainers are the health care professionals with whom patients are safe.
ATs are able to connect with patients, notice when something is off and refer them to a mental health professional when needed.
Wood, a secondary school athletic trainer in Oregon and former District Ten director, said she sees this as an especially important part of the job when working with high school student athletes, who are often hiding their stress, anxiety and depression. To better recognize when student athletes are experiencing more stress than normal, Wood implemented a weekly virtual wellness survey. By taking the survey virtually, students who may be uncomfortable with sharing depressive feelings in-person are more likely to express concerns via text.
"In secondary schools, we typically don't have the funding to provide as many mental health resources as are offered in the collegiate setting," Wood said. "The wellness survey I created is free and doesn't take much time to reach out to a large number of athletes."
According to a 2019 Pew Research Center study, an estimated seven in 10 teenagers see anxiety and depression as problems among their peers, and Wood estimates 32 percent of young adults have some sort of anxiety disorder.
The wellness survey Wood developed is distributed to student athletes via the Remind app and completed on a Google Form. It asks students about stress levels, sleeping habits, water intake and nutrition. It also asks students to share something they are proud of or grateful for that week.
Although the COVID-19 pandemic took students out of sports and the classroom, it has forced Wood to refocus the weekly survey to incorporate questions about being active at home and address stressors related to being under a stay-at-home order. The survey students now receive weekly still includes questions about sleep and nutrition, but also daily activity and practice.
"It's been an interesting response [during the pandemic]," she said. "The variety of kids who are responding is just blowing my mind. … It validates for me that some of these kids just want to hear from somebody."
Creating your own wellness survey to distribute to secondary school student athletes is fairly simple, and Wood has created shareable documents to help any athletic trainer get started.
Here is a quick rundown of the tools to use and how to structure a wellness survey, pandemic or no pandemic.
Create a Google Form: Google Forms are a user-friendly way to distribute and collect data from students that is safe and secure. Each form should include a space for students to enter their name and sport. It should include eight to 10 questions about their current habits in nutrition, hydration, sleep, soreness, home stress and school/sport stress, such as:

How much daily activity are you getting?
How much sleep are you getting?
What is your stress level?
(Open ended questions): What are you proud of? What are your grateful for?
Apart from open-ended questions that students can type their response directly into, questions should be answered on a scale from one to four. For example, a four represents "amazing" and a one or zero represents "awful."
Create Google Sheet for responses: Once the Google Form is created, set up a Google Sheet to collect and record responses. Google Sheets, similar to Microsoft Excel, allows for simple organization of responses, and athletic trainers can coordinate their sheets to show students who respond in need. Wood, for example, color codes totals for each student in green for high scores and red for poor scores to easily see who may need a follow up.
Wood has created a document that outlines exactly how to set up Google Sheets to incorporate formulas and color coding to collect responses in an organized way. Connect with her directly via email for more information.
Host educational sessions: Before the start of every season, Wood hosts an education session with student athletes to discuss physical wellness topics, including proper nutrition, hydration, sleep and how these can improve performance. She also includes mental wellness topics and ways to manage stress to improve performance. During the educational session, introduce the wellness survey, and encourage students to use it as a tool to keep track of their own well-being. Use an independent app, such as Remind or another secure messaging platform, students can download to receive the wellness survey every week.
Distribute surveys weekly.
Evaluate: Reviewing responses in Google Sheets allows athletic trainers to quickly see who responded "in the red" and in which categories. Wood reviews by each student athlete, but also organizes responses per team and can look for trends among different players on the same team.
Respond, if necessary: If a response "in the red" is documented, Wood recommends following up via the Remind app or addressing the responses the next time they're seen in the athletic training facility. After connecting, Wood follows up with their coaches, or appropriate contact, with any concerns. Mental wellness concerns are referred to the mental health specialist in the school for further evaluation, she said. During the COVID-19 pandemic, Wood said she has been sending more responses in an effort to stay better connected to student athletes.
"It's fun to see what they're proud of … 'I baked a cake for my mom from scratch,'" she said about responses during the pandemic. "It's great to just to get a different insight into their life … and understand what's important to them."
For more information about wellness surveys, NATA created a secondary school resource on wellness screening guidelines available within secondary school resources.