January 29, 2020 by
Beth Sitzler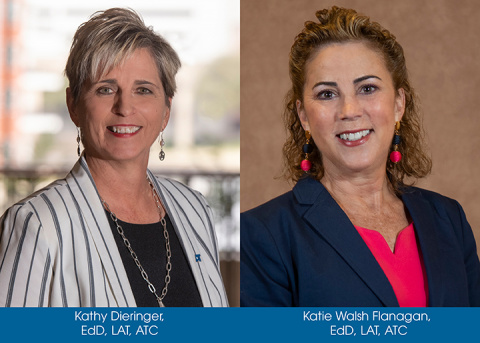 During the NATA Joint Committee Meeting, the Presidential Nominating Committee, comprised of two representatives per NATA District, convened Jan. 25 to select the final two candidates for the next NATA president. The final two candidates are Kathy Dieringer, EdD, LAT, ATC, and Katie Walsh Flanagan, EdD, LAT, ATC.
Voting will take place this summer. Follow NATA's social media channels and read the NATA Now blog and NATA News to learn more about the presidential candidates and voting.
Kathy Dieringer, EdD, LAT, ATC
Dieringer, who has 30 years of athletic training experience in multiple settings, is the owner of three outpatient rehabilitation clinics – D&D Sports Med – in the north Texas area, employing more than 45 staff members, including physical therapists, occupational therapists, athletic trainers, and strength and conditioning specialists. She manages all aspects of the clinics while continuing to provide patient care. Previously, Dieringer worked in the collegiate (NCAA Division I and Division II), secondary schools and clinical settings. As a clinician, her expertise include gymnastics, industrial rehabilitation and golf.
Dieringer has more than 20 years of volunteering experience with NATA and the Athletic Training Strategic Alliance. In addition to serving on various state, district and NATA committees, she served as the NATA District Six director and secretary/treasurer of NATA, president of SWATA, Commission on Accreditation of Athletic Training Education (CAATE) commissioner and chair of the NATA Clinical and Emerging Practice Athletic Trainers' Committee (currently known as the NATA Council of Practice Advancement). She assisted in the creation of the Healthcare Reform Workgroup and initiated the implementation of the Accountable Care Organization Demonstration Project, currently in progress.
Dieringer was inducted into the NATA Hall of Fame in 2017 and the SWATA Hall of Fame in 2008. She was awarded the 2019 American Orthopaedic Society for Sports Medicine Most Distinguished Athletic Trainer.
Katie Walsh Flanagan, EdD, LAT, ATC
Flanagan is the director of sports medicine and a professor at East Carolina University in Greenville, North Carolina. She has volunteered at the Pan American and Olympic games, and has traveled with the U.S. soccer teams to Europe and Central America. Flanagan has worked as head athletic trainer for the Chicago Power men's professional soccer team, head athletic trainer for Western Illinois University and assistant athletic trainer for Illinois State University and California State University at Fresno.
Flanagan, currently serving as the NATA Board of Directors District Three director, has volunteered MAATA, NWATA, GLATA and FWATA. Her service to District Three began more than 20 years ago as a state representative. She then served as vice president to the North Carolina Athletic Trainers' Association (NCATA), as the MAATA Annual Meeting program planner and on a multitude of NATA education-related committees and task forces. Flanagan joined CAATE – then the Joint Review Committee – and served as the vice president.
In addition to writing NATA's position statements on lightning and sudden death, Flanagan co-authored "Medical Conditions in the Athlete" and "Acute and Emergency Care in the Athletic Training" and authored "Medical Terminology with Case Studies in Sports Medicine."
Flanagan is a NCATA Hall of Fame member and was named NCATA College/University Athletic Trainer of the Year twice. She was awarded the NATA Athletic Trainer Service Award and Most Distinguished Athletic Trainer Award.