June 20, 2023 by
Beth Sitzler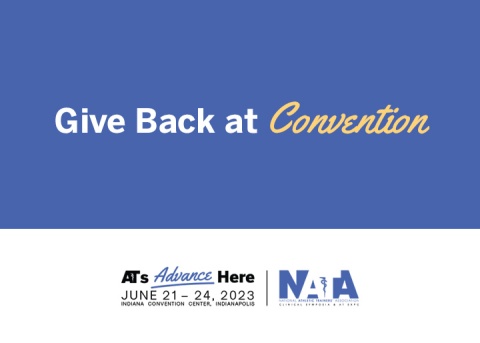 While the 74th NATA Clinical Symposia & AT Expo is a great opportunity to learn, connect and celebrate the athletic training profession, attendees also have the chance to give back to others while in Indy.
This year welcomes the return of the in-person NBATA Gary Vitti Blood Drive and Be The Match Bone Marrow Donor Drive, both located in the Indiana Convention Center (ICC), Room 201.
A convention staple, the NBATA Gary Vitti Blood Drive is partnering with Versiti Blood Center of Indiana during NATA 2023, ensuring the local community receive these needed donations.
In addition, attendees can impact the thousands of people diagnosed every year with life-threatening blood cancers, such as leukemia and lymphoma, through the Be The Match Bone Marrow Donor Drive. Convention-goers between the ages of 18 and 40 can add their names to the national bone marrow registry by registering online and completing an on-site swab kit with Be The Match volunteers
Stop by ICC, Room 201, to make your blood donation and/or add your name to the Be The Match donor registry. Hours are:
9 a.m. to 4 p.m. June 22-23
9 a.m. to 1 pm. June 24
There's Still Time To Volunteer!
Another way to give back while in Indy is to volunteer during NATA 2023. Volunteers who work ten or more hours are reimbursed for a portion of their registration fee. Visit the Volunteer Office in ICC, Room 111 to learn more about the volunteer opportunities still available.