District Representative: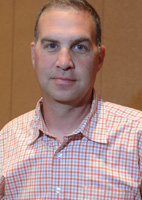 Dan Newman MS, ATC, LAT

Dan Newman is beginning his 12th year as the Head Athletic Trainer at Union High School in Tulsa, OK.

Dan graduated from the University of Tulsa in 1996 with a Bachelors of Science in Athletic Training. Dan furthered his education by receiving his Master's of Kinesiology (with an emphasis in Sports Injury management) from the University of Nevada- Las Vegas. Dan's professional experience encompasses over 18 years at the NCAA division I level, to small college and high school settings.

Throughout his career, Dan has been actively involved in many activities including serving on the medical staff for the State Special Olympic Games. Dan is also actively involved at the state and national level; he is the past president and meeting committee chair of the Oklahoma Athletic Trainers' Association and currently is a Division Leader of the NATA State Association Advisory Committee and District 5 representative on the Secondary Schools Athletic Trainer Committee.

Dan and his wife Becky have two daughters, Peyton (7) and Addison (3).

State Medical Associations
Missouri
Kansas
Oklahoma
Nebraska
Iowa
North Dakota
South Dakota
Academy of Family Physicians
Missouri
Kansas
Oklahoma
Nebraska
Iowa
North Dakota
South Dakota
State Athletic Associations
Missouri
Kansas
Oklahoma
Nebraska
Iowa
North Dakota
South Dakota
State Athletic Directors' Associations
Missouri
Kansas
Oklahoma
Nebraska
Iowa
North Dakota
South Dakota
State Brain Injury Awareness Associations
Missouri
Kansas
Oklahoma
Nebraska
Iowa
North Dakota
South Dakota
State Concussion Laws
Missouri
Kansas
Oklahoma
Nebraska
South Dakota
State Licensure Laws
Missouri
Kansas
Oklahoma
Nebraska
Iowa
North Dakota
South Dakota
Licensure Verification
Missouri
Kansas
Oklahoma
Nebraska
Iowa
North Dakota
South Dakota

State Secondary School Committee Chairs:
Missouri:
Steve Taylor - Steve.taylor@leesummit.k12.mo.us
Kansas:
Justin Clark - Juclark@MHSKS.org
Oklahoma:
Russ Schuchman - rschuchman@norman.k12.ok.us
Nebraska:
John Carda - jcarda@espne.org
Iowa:
Chris Wiedman - wiedmacj@ihs.org
North Dakota:
Robyn Gust - Robyn.gust@trinityhealth.org
South Dakota:
Chad Urban - Chad.urban@sanfordhealth.org