SSATC Chair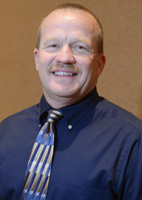 Larry Cooper MS, ATC, LAT
Larry Cooper is the current Chair of the National Athletic Trainers Association (NATA) Secondary School Athletic Trainers Committee (SSATC). He has been a Teacher and Certified Athletic Trainer for 31 years with the majority of that time at Penn-Trafford High School in Harrison City, Pennsylvania. He developed the Sports Medicine Class and the Student Athletic Trainer Aide Program at Penn-Trafford.
Larry previously served as the District 2 representative to the NATA SSATC. In addition, he has held numerous positions within the Pennsylvania Athletic Trainers Society (PATS) including being a member of the Board of Directors, Secondary School Committee Chair, Parliamentarian and others. Larry is a founding member of the Western Pennsylvania Interscholastic Athletic Leagues (WPIAL) Sports Medicine Advisory Committee. He continues to work as a Master Assessor for the Pennsylvania Interscholastic Athletic Associations (PIAA) Wrestling Weight Loss rule.
Mr. Cooper earned his degrees from the University of Pittsburgh and taught in Virginia for 8 years prior to coming to Penn-Trafford. He resides in Harrison City, PA with his wife Lisa and three daughters, Sara, Molly and Delaney.

BOD Liaison to SSATC
Chris Mathewson, ATC
Chris Mathewson, ATC, NATA District Seven Director, is in his 21st season as the head athletic trainer of Ponderosa High School in Colorado. In addition to being a certified athletic trainer, Chris is also a certified strength and conditioning specialist. Chris received his bachelors degree in Exercise Physiology from the University of Wyoming in 1994. In 2001 he received his Master's degree in Sports Medicine from the United States Sports Academy.

Chris also coordinates the Douglas County School District Athletic Trainers Group and has lead the group for the past seven years. In addition to his professional responsibilities at Ponderosa and within the school district, Chris is employed by the National Football League. He serves as an "athletic trainer spotter" during Bronco home games.

Chris just finished serving as the secretary of the Rocky Mountain Athletic Trainers' Association. He has served as the President of the Colorado Athletic Trainers Association for six years and was instrumental in the passage of a state regulatory law for athletic trainers. At Ponderosa Chris also leads the Fellowship of Christian Athletes club.

Chris has received several awards for his efforts:
Ponderosa High School Hall of Fame, September 2014
Rocky Mountain Athletic Trainers Association Distinguished Service Award, April 2014
"Excellence In Colorado High School Athletic Training Award" presented by the Denver Nuggets, March 2005
April 2004 "Above the Call Award" from Training and Conditioning magazine, April 2004

Chris is married and lives in Parker with his wife Wendy and daughters Taylor and Bailey and dogs Tink and Mookie.