SSATC Chair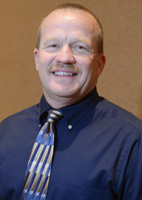 Larry Cooper MS, ATC, LAT
Larry Cooper is the current Chair of the National Athletic Trainers Association (NATA) Secondary School Athletic Trainers Committee (SSATC). He has been a Teacher and Certified Athletic Trainer for 31 years with the majority of that time at Penn-Trafford High School in Harrison City, Pennsylvania. He developed the Sports Medicine Class and the Student Athletic Trainer Aide Program at Penn-Trafford.
Larry previously served as the District 2 representative to the NATA SSATC. In addition, he has held numerous positions within the Pennsylvania Athletic Trainers Society (PATS) including being a member of the Board of Directors, Secondary School Committee Chair, Parliamentarian and others. Larry is a founding member of the Western Pennsylvania Interscholastic Athletic Leagues (WPIAL) Sports Medicine Advisory Committee. He continues to work as a Master Assessor for the Pennsylvania Interscholastic Athletic Associations (PIAA) Wrestling Weight Loss rule.
Mr. Cooper earned his degrees from the University of Pittsburgh and taught in Virginia for 8 years prior to coming to Penn-Trafford. He resides in Harrison City, PA with his wife Lisa and three daughters, Sara, Molly and Delaney.

BOD Liaison to SSATC
Bart Peterson MSS, ATC
Mr. Peterson has been an athletic trainer for more than 25 years. He began as a student trainer in high school at Lehi High School in Lehi, Utah and attended college at Brigham Young University in Provo, Utah. Prior to graduation, he was hired at Provo High School and worked there as an athletic trainer for two years. He also worked for a short time at the University of Utah's Wasatch Clinics, providing outreach services to East High School in Salt Lake City as well as other schools.

He has worked for the past 24 years at Campbell County High School in Gillette, Wyo. and Palo Verde High Magnet School in Tucson, Ariz. For the past four years, he has also been the Athletic Director at Palo Verde HS. Mr. Peterson holds a Master's Degree in Sport Management from the United States Sports Academy.

Shortly after beginning work in Wyoming he was elected President of the Wyoming Athletic Trainers' Association and continued in that capacity for 6 years, serving also on the Board of Directors of the Rocky Mountain Athletic Trainers' Association. Representing District 7 on the NATA Secondary Schools Athletic Trainers' Committee for 6 years was a highlight of his career in the late 90's and early 2000's. Service to his profession and other athletic trainers, as well as the patients we assist provides great joy to Mr. Peterson. "If I could give one piece of advice, it would be to find a way to serve and lose yourself in others." Mr. Peterson has served and worked on numerous task forces and work groups promoting the profession including being the Board Liaison to the Ethics, Public Relations, District Secretary Treasurers and the SSATC.

In 2003, he was elected as Secretary of the Rocky Mountain Athletic Trainers Association and in 2009 was elected District 7 Director to the NATA Board of Directors.

The secondary school athlete and promotion of the profession remain the focus of his career and professional life. Helping these students participate fully in sports and activity and assisting them in recovering from adversity remains his passion.

Mr. Peterson is also an active member of the Church of Jesus Christ of Latter-Day Saints and serves the community by participating in the Boy Scouts of America, acting as a leader for the past 20+ years. Two of his own sons are Eagle Scouts and the remaining two are well on their way. Helping others reach their potential is a theme of his professional and community service.

Bart is married to his wife of 23 years and proud parent of Courtney, Bryce, Gerritt, Tanner, and Spencer. Mr. and Mrs. Peterson are proud grandparents to one grandson.