New Study: Teens Report Higher Use of Steroids, Synthetic Human Growth Hormone
New Study: Teens Report Higher Use of Steroids, Synthetic Human Growth Hormone
Posted July 24, 2014 by Anonymous
A new survey released by the Partnership for Drug-Free Kids suggested that teen reports of performance enhancing drugs have more than doubled in the last year. Sponsored by the MetLife Foundation, the study reported that 11 percent of teens who were surveyed said they'd ever used steroids or synthetic human growth hormone without a prescription - a huge increase from the 5 percent in 2012.
"These findings underscore teens' growing interest in performance enhancing substances, as well as the need for tighter regulation and more accurate labeling of "fitness-enhancing" over-the-counter products implying they contain synthetic hGH," according to a Taylor Hooton Foundation blog post that was released July 23. Established in 2003, The Taylor Hooton Foundation (THF) was founded to honor Taylor E. Hooton, a 17-year-old athlete from Texas who took his own life after using anabolic steroids.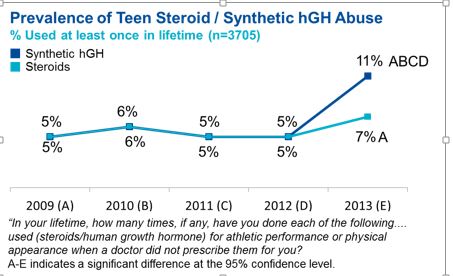 But according to a survey conducted by THF, PBATS and Gallup, fewer than 20 percent of Americans believed steroid use was an issue in grades nine through 12. (Read our full story and see the infographic that goes with it in the August/September 2013 NATA News here).
To read up on the latest guidelines in regards to this topic, visit NATA's official position statement on anabolic/androgenic steroids.
Posted by NATA News Managing Editor Jaimie Siegle (jaimies@nata.org)