April NATA News: From the Editor
April NATA News: From the Editor
Posted April 1, 2014 by JordanB
When we were offered the chance to shadow athletic trainers at the Johnson Space Center in Houston for our April NATA News, we jumped at the chance. Our Managing Editor Jaimie Siegle worked diligently to set this trip up for months and months, and it suddenly came together in a whirlwind back in February. Special thanks to Joshua Yellen, EdD, ATC, LAT, and Bruce Nieschwitz, ATC, LAT, for navigating the strict NASA regulations to get us in the door that day.

Our writing team hopped an extremely early flight from Dallas to Houston and jumped right into an action-packed day with the NASA athletic trainers, including Josh, Bruce, Jamie Chauvin, CSCS, CHES, ATC, and David Hoellen, MS, ATC, LAT. It was one of the most fascinating feature stories we've had a chance to experience in our "Day in the Life" series. Having the curtain peeled back on the mystery and intrigue of space travel and astronaut life – and the athletic trainers who care for these brave zero-gravity athletes – gave me a brand new appreciation for NASA's mission. It was one of those "Wow, I'm glad there are so many smart people out there who dream this stuff up because I could never do it" moments, you know what I mean?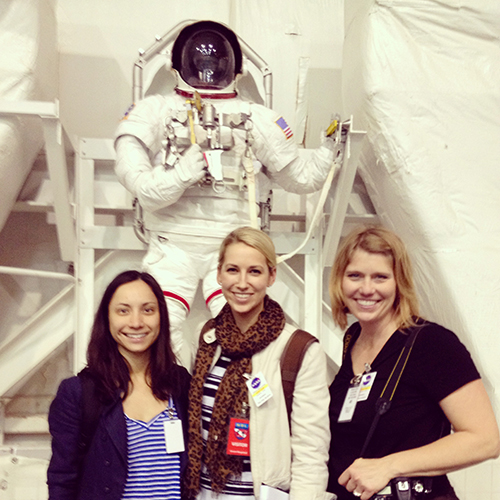 Managing Editor Jaimie Siegle, Editor-in-Chief Jordan Grantham, photographer/videographer Renée Fernandes
Jaimie did a fantastic job crafting her cover story for the April magazine, which breaks down the three phases of the job for NASA athletic trainers: pre-flight, in-flight and post-flight. Read the full story here.

Renée Fernandes put together this video of our day with NASA, which provides even more insight to the unique characteristics of being an athletic trainer for astronauts.
Athletic Trainers for NASA from National Athletic Trainers' Assn on Vimeo.

While we were in Houston, we asked our Twitter followers to send us questions they wanted to ask the NASA ATs. The questions and responses are below. (It was hard to fit the responses in 140 characters, but you get the gist!)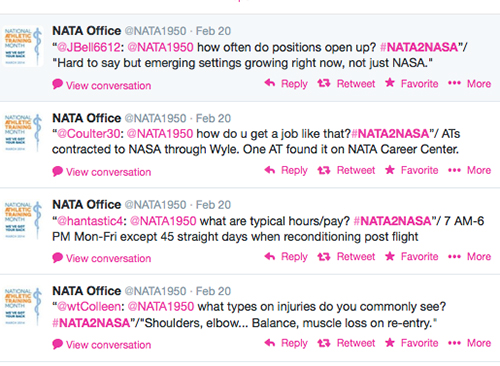 We actually live-tweeted the entire day so you could experience the behind-the-scenes tour along with us. If you missed it, you can still see our NASA tweets and photos by searching "#NATA2NASA" on Twitter.

Coming Up in the NATA News:
Our next feature will spotlight the professional sports setting. We'll be spending the day with Atlanta Hawks Head AT Wally Blase, MS, ATC, CSCS, recently named AT of the Year by the National Basketball Athletic Trainers Association.

If you're interested in having our NATA News team descend upon your workplace for on of our "Day in the Life" features, contact me at jordang@nata.org. We're always looking for new ideas!
Posted by Jordan Grantham, Editor-in-Chief of the NATA News