District 2
District Representative: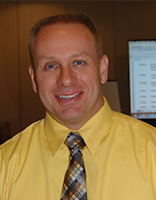 Casey Christy, MA, ATC, CSCS
My name is Casey Christy and I have been working in the secondary school setting since 1992, and it is my pleasure to serve the NATA SSATC. Like many athletic trainers, I have been blessed with great mentors. As an undergraduate student at Glassboro State College (now Rowan University), I had the fortune of learning under Chuck Whedon, who served as an inspiration and role model as an educator, clinician and leader. After receiving my bachelor's degree in 1992, I began my career at Glen Mills School in Concordville, PA under the wise guidance of long-time athletic trainer Gabe Fucci. Since 1994, I have been the head athletic trainer at Eastern High School in Voorhees, NJ, a large south jersey school that takes great pride in successful academics, athletics and the arts. After receiving an MA in Public Relations from Rowan University in 2003, I began teaching Rowan athletic training students as an adjunct instructor. I've had the privilege of serving the Athletic Trainers' Society of NJ in several capacities, including president, public relations chair, and governmental relations co-chair. I enjoy serving as a preceptor for Rowan students, and presenting various topics at athletic training conferences. Athletic Training has been good to me and my family, and serving the profession, including this committee, is my way of giving back. My wife Shelley and I reside in Haddon Heights, NJ with our two children Tyler and Myranda, and our spoiled chocolate lab, Haddy.

Useful Links and Info:

State Medical Associations
Pennsylvania
New York
New Jersey
Delaware

State Athletic Association
Pennsylvania
New York
New Jersey
Delaware

State Athletic Directors' Association
Pennsylvania
New York
New Jersey
Delaware
Academy of Family Physicians
Pennsylvania
New York
New Jersey
Delaware

State Brain Injury Awareness Associations

Pennsylvania
New York
New Jersey
Delaware

State Practice Acts

Pennsylvania
New York
New Jersey
Delaware

State Concussion Laws

Pennsylvania
New York
New Jersey
Delaware
State Secondary School Committee Chairs
Pennsylvania:
Dan Quigley - quigleda@mtwp.net
New York:
Paul Lasinski - lasinskiP@harborfieldscsd.org
New Jersey:
Dave Csillan - dcsillan@ewingboe.org
Delaware:
Staci Krapes - kessatc@gmail.com